Let's be real. The rooms where kid's play tend to get messed up faster than any other room in the house. Today, I am sharing a quick toy room refresh that I recently did at our rental home.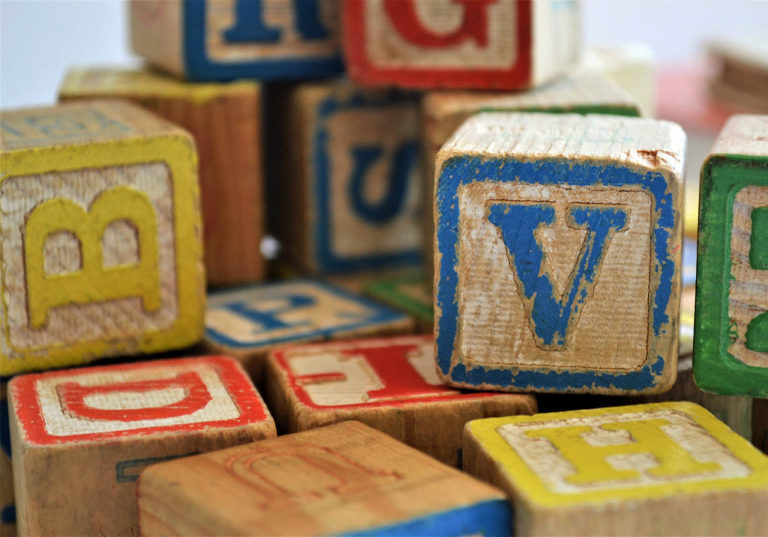 We have lived in this rental house for four years now. There is no basement here, and I can honestly say that I miss having a 'kid zone' space tremendously. While we definitely have a nice basement in the works for our new home, we have been making due, for now.
OUR TOY ROOM
The main level of the rental farmhouse has a small room that we have set up as a play space for the kids. It includes a tv with a gaming station, a couple of computers, a whole lot of Legos, and other miscellaneous toys. Brace yourself for a couple of pre-cleaning before photos.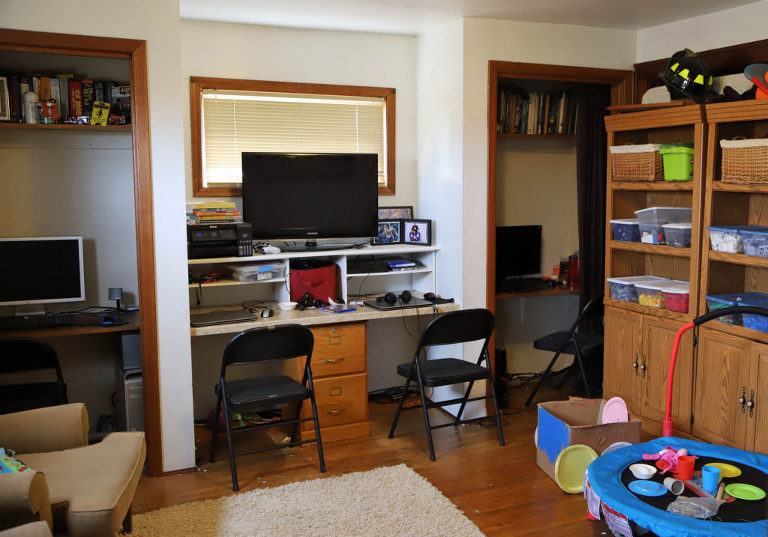 This room is used on a daily basis. And, generally, we have the kids tidy it up every night before bed. However, the past couple of weeks have been beyond busy. With house building preparation in full swing, we haven't always remembered to have the kids clean up. I walked into the toy room the other day and was horrified. It was an absolute mess!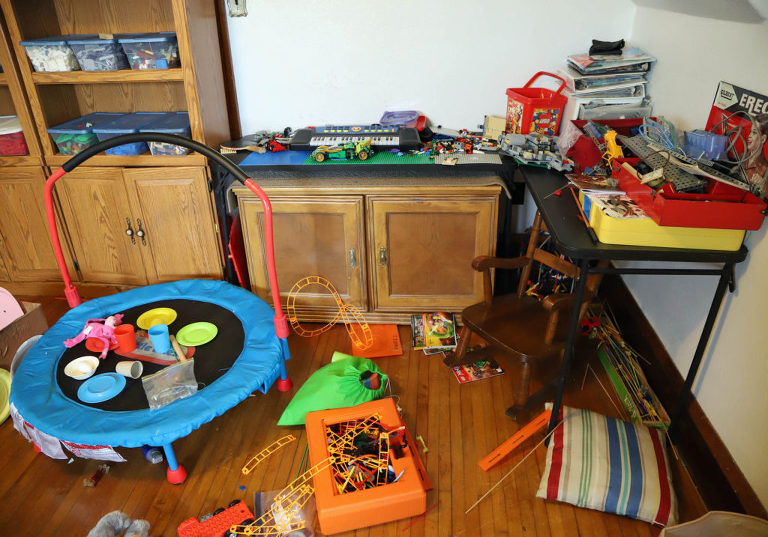 In some weird way, cleaning is therapeutic for me. And so, this week I decided to use part of the afternoon, before picking the kids up from school, to get the job done.
WATCH ME CLEAN
I put on a pair of headphones, and my favorite Podcast (Young House Love Has A Podcast), and set to work. Listening to something entertaining while cleaning definitely keeps me going. Give it a try!
OUR TOY ROOM AFTER
With one hour of focused attention, I was able to get the play area tidy. You parents out there know that it isn't likely to stay looking like this for long. But, I suppose that is just as it should be. After all, a toy room's main purpose is to be played in!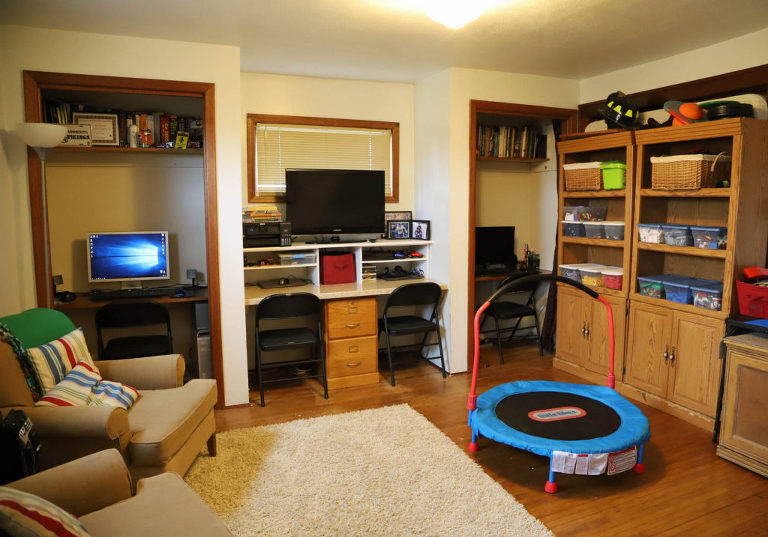 I appreciate that the room has a bit of open floor space for the kids to sprawl out with their toys. The trampoline is also a hit with the girls. We are still debating if we will take it with us when we move.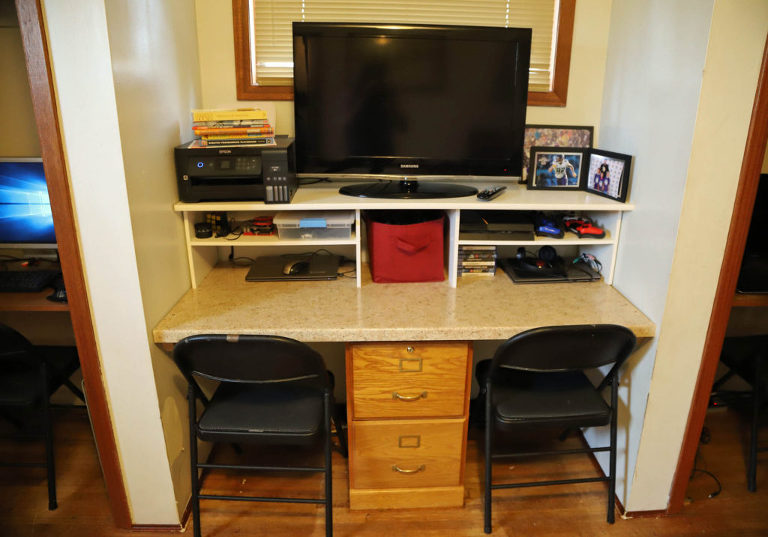 The electronics section got a major cleaning. I made sure to use Clorox wipes on the controllers and computer mice. It's doubtful that the kids would ever think to do that on their own!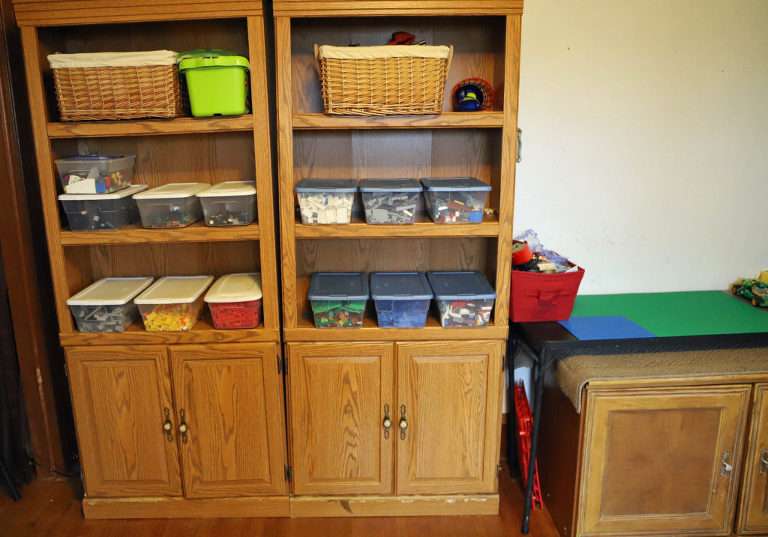 The Lego area is ready for more creativity. Just in case you are wondering, yes. We do sort our Lego's by color! Since this cheap shelving unit won't be making the move with us, I will be searching for other ideas on how to store the collection.
TIPS FOR CONTROLLING TOY CLUTTER
At some point I will do a more in depth post about how to keep kid's toys in check. But, for now I want to offer up a few quick tips.
ONLY KEEP WHAT THE KIDS USE
As I mentioned in this post about Kids + Minimalism, we have definitely seen that less is more when it comes to toys. We have decluttered our kid's collection down to the basics. Their favorites include standard wooden blocks, a few dolls, matchbox cars, and, of course, Legos. All of these toy items allow for plenty of open ended playing.
STORE IN EASILY ACCESSIBLE BINS
Unless you want to be constantly supervising play time, it is essential that the toys themselves are accessible to the kids. Keeping them on low shelving and in durable bins is a good idea.
ESTABLISH SOME RULES
Teaching kids to clean up after themselves is an important life lesson. A great place to start is by making sure that they learn to put away any toys they are finished playing with. This is also one of the seven daily habits that can help you keep your house tidy without the stress!
PIN THIS POST
If you found anything in this post inspirational or helpful, share it! Or save it to read again later.